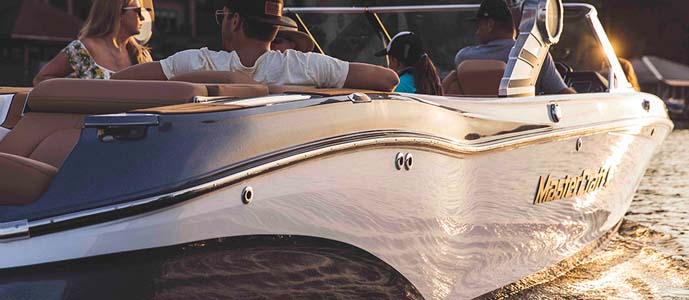 Skier's Marine is entering its 25th year in 2020. One of the things that we could have never predicted in 1995 would be how much the industry we love would evolve over the years. Nothing embodies this transition more than the new 2020 MasterCraft X26.
A completely redesigned interior and exterior for 2020 coupled with a host of new, never seen before, set of standard features and options makes for a luxury day cruiser that also does water-sports activities exceptionally well. The X26 is for the water sports enthusiast who cares as much about the quality of the boat and rough water ride, and the no-compromises set of creature comforts, as they do about the wake and wave quality. If this description fits your view of time well spent on the water, we break out many of the critical differences that separate the 2020 MasterCraft X26 from every other MasterCraft and competitor below.
New Options Never Seen Before In An Inboard
Center head or board storage room. While MasterCraft has had models in the past with a head option, they typically are set in the passenger OB area. New for 2020, the X26 moves the head option to the centerline of the boat. This movement allows for a roomier head and more ergonomic cockpit walking space. Another new standard feature, if you do not option for the head, is integrated, lockable, board storage.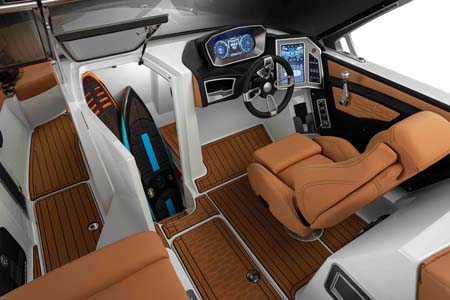 New side-entry bow. With the storage or head area now aligned in the center of the X26, the bow entry is now in the portside OB area. This new layout gives the X26 day boat comfort for your forward riding passengers.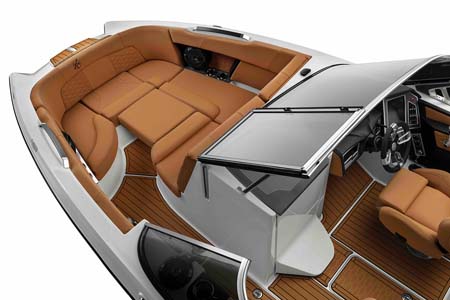 New transom seat footrests. An option on all X-Series boats for 2020 is the new, optional, fold-out footrests for the transom lounge seats. Easily one of the most coveted options for all X-Series owners now offers another level of comfort.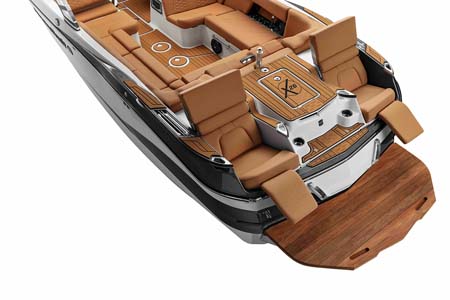 Other Key Options
Optional refrigerator. While the X26 comes standard with a cooler, you can additionally order an onboard refrigerator for those all-day trips where additional cold storage is beneficial.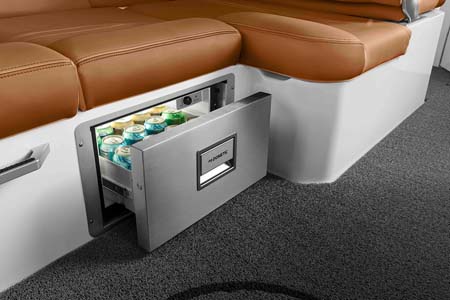 Co-Pilot Remote and Second Display. Want to focus on driving and leave the DJ responsibilities to the other passengers? Available in the all-new X26 these controls allow passengers to control the audio from the comfort of the rear-facing OB seat while the second display adds lighting controls also. Now you can focus on the operation of the boat and leave the entertainment to the other passengers.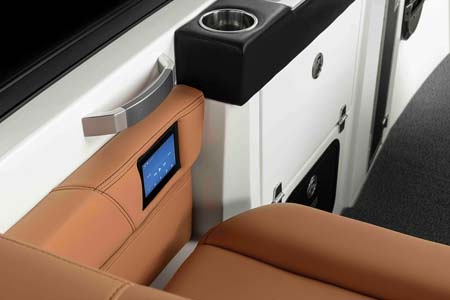 X26 Model specifications:
Length: 26' 5"/8.07 M
Beam: 102"/2.59 M
Seating: 18 people
Weight: 6,900 LBS/3,129 KG (dry)
Fuel capacity: 108 G/408 L
Ballast capacity: 4,150 LBS/1,882 KG
Storage: 100'3
Optional head and water system

Freshwater capacity: 12 G/45.4 L
Wastewater capacity: 12 G/45.4 L
**Watch The Full Walk Through Here