When purchasing a new boat, do you base your decision on performance, quality, and status? If so, the all-new 2022 MasterCraft XStar S is your next wakeboard and surf boat!
MasterCraft delivers on its reliability, innovation, and luxury promise with the XStar S. Featuring all-new transom lounge seats, patented ballast technology, and refined surf systems, the flagship XStar family is now bigger and bolder than ever. Stick with us as we walk through the all-new 2022 MasterCraft XStar S.
2022 MasterCraft XStar S Video Review
2022 MasterCraft XStar S SPECS
23 feet long
102" beam
5800 lbs dry weight
76-gallon fuel capacity
Room for 16 people
4300 lbs of ballast with SurfStar
6.2 L Ilmor engine (standard)
All-New MasterCraft XStar S Features
SurfStar
What does the S in "XStar S" stand for? Surf! And what's a surf boat without SurfStar?
The redesigned SurfStar system features brand new plates and heavy-duty actuators with position sensors. All of this technology positions the wave more accurately than ever before. This wave is truly versatile. Not everyone surfs the same wave. With SurfStar, you can adjust the plate further into the water to create a mellow wave or raise it to increase push.
Paired with SurfStar, the XStar S utilizes the center attitude adjustment plate. This plate adjusts the attitude and bow of the boat to widen the wake or give it more of a lip for wakeboarding.
In addition, the XStar S comes with the option to add the intuitive stern thruster. New for 2022, the integrated throttle-controlled stern thruster for MasterCraft makes docking a breeze. Easily maneuver your new XStar S in tight spaces and turn a complete stationary circle in just 30 seconds!
Towers
The XStar S comes with three tower options, each completely redesigned for the MasterCraft 2022 model year.
Z6
MasterCraft's base tower
Comes standard with Essential clamping board racks
Black or silver cosmetic standard options
Speaker upgrades available
Z8
MasterCraft's latest tower innovation
Comes standard with Essential clamping board racks (option to upgrade to Supreme board racks)
Features patent-pending Hydro-Lock technology
Easiest manual tower in the industry
Features side-tow points for surfing
Color-matching available (over 180 color combinations)
Available on XT, X, XStar, and XStar S models
Z10
All-new power tower from MasterCraft
Lower and raise via push-button at the helm
Comes standard with Essential clamping board racks (option to upgrade to Supreme board racks to accommodate thicker shapes and foam boards)
Add up to 2 board racks per side in black or silver
Features side-tow points for surfing
Over 180 color combinations to match your boat and windshield
Available on XT, X, XStar, and XStar S models
These newly-designed towers combine style and function and can easily be raised and lowered by a single person.
Essential clamping board racks come standard on the XStar S. If you like to store thicker boards or surfboards on your clamping racks, you can upgrade your XStar S with the Supreme racks.
If the new tower alone is not enough, you can completely customize the look of your tower! Select either black or silver satin tower footings, black or silver board racks and a black, silver, or titanium tube color. Plus, on the Z8 and Z10 towers, you can choose from fifteen chromex inlay colors to complete your design.
What about the bimini? The signature easy-to-deploy bimini from MasterCraft mounts seamlessly to all of the new towers. Unzip the cover, pull the bimini forward, and lock it into place.
XStar S Transom Seating
You will find ultimate comfort on the water in the all-new transom lounge seats from MasterCraft!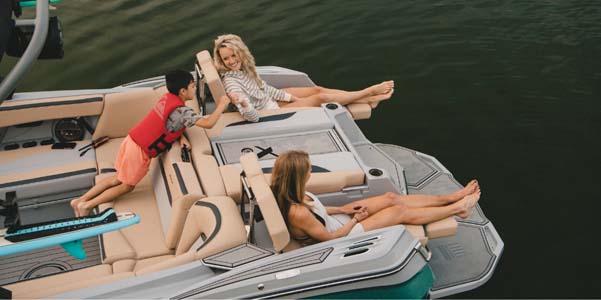 The transom lounge design is borrowed from the popular MasterCraft X family and upgraded with comfort features "fit for the flagship." On the XStar S, each seat comes standard with a pop-up headrest and footrest. The deep seat base and ergonomic curvatures provide a lounge-ready spot for every passenger.
The transom space is just as functional as it is comfortable. The walkthrough makes it easy to get in and out of the boat. Plus, the hatch above the engine provides heated vest storage.
Luxury on the Water
Finishes
The flagship of MasterCraft leads the pack in performance, reliability, bold style lines, and quality finishes.
As you can see in this video, the all-new MasterCraft XStar S boasts some aggressive exterior style lines with endless customization. This boat features midnight black and black mica flake with a gold satin MasterCraft decal.
The XStar and XStar S dash comes outfitted in gunmetal aluminum finishes, including a brand new rearview mirror. The easily adjustable mirror fastens atop a curved windshield unique to the MasterCraft XStar family.
CoolFeel Vinyl
One thing that sets MasterCraft apart from other boat manufacturers is innovative CoolFeel vinyl. The CoolFeel vinyl option offers a more luxurious feel while keeping your vinyl 30% cooler on those hot summer days.
Do you love the look of black on your interior vinyl? With CoolFeel, you can have your black interior with the feel of a light grey even on hot days.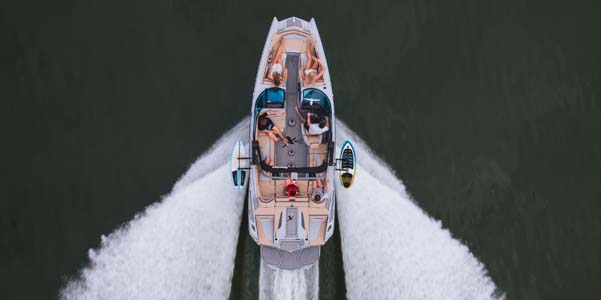 The seats in your XStar S are wrapped in your choice of CoolFeel or Odessa vinyl with endless color combinations of stylish accents. The boat in this video features CoolFeel beach tan with titanium accents.
The cockpit design of the XStar S includes convenient convertible seating to maximize the function and comfort of your boat. You have the rear convertible seat, which flips once for stadium seating then extends into a playpen/lounge area. On the starboard side, a pop-up seat offers an additional back-facing seat.
The pickle fork bow in the XStar S has total usable space. It features port and starboard lounge seats with armrests and an expansive front seat with an optional bow seat filler cushion.
MasterCraft created a driver's seat fit for all captains! The contoured helm chair has a high back and built-in bolster for a full day on the water. With easy-to-reach levers and a hydraulic lift, you can swivel, move forward and back, raise and lower, and recline.
Dual Screen Dash
In your new MasterCraft XStar S, the Dual Screen Advanced is standard. You do have the option to upgrade to the Premium Plus screen, which allows your boat to have four tower speakers and two more interior speakers.
This video walks you through the new interface on the Dual Screen Advanced. Starting at the top, the 12-inch panoscreen has two display options: compressed to give an analog look and expanded with digital readouts and the rear camera view.
The 10-inch screen sits on the righthand side for access to your presets and settings. The top half of the screen displays presets for the drive, surf, wake, ski, and chill settings. You can set the cruise control here, fill/empty the ballast, and adjust your tabs. The bottom half is your access to boat controls and safety features. Easily toggle between volume, lighting, navigation, and tutorial videos.
The entire dash is outfitted with a gunmetal billet look, a signature finish on the XStar and XStar S.
The high-quality billet finish extends from the dash to the aluminum wind-block door between the bow and the cockpit.
Supreme Storage
If you're familiar with MasterCraft, you already appreciate the ample storage opportunities found in each of their models. The XStar S is no different!
In the cockpit, you will find communicating storage starting in the port side "coffin" storage, under the observer seat, and reaching up through the bow. Also, every MasterCraft makes room for anchor storage under the front center seat cushion in the bow.
The bow walkthrough features trashcan access on the port side and battery switch and breaker box storage on the starboard side.
Your cooler has a dedicated storage space found under the starboard seats. And additional gear storage can also be found above the rear ballast compartments, under the full-hinged bow seats. Only found in the XStar and XStar S, the transom hatch above the engine box hides heated life vest storage.
New for 2022, the helm comes standard with a charging phone holder. Plus, the cockpit includes cell phone holders with a charging option on both starboard and port sides.
Quiet but Powerful Ride
The 2022 MasterCraft XStar S comes standard with the Ilmor 6.2-liter engine providing 430 horsepower and 479 lbs of torque.
When paired with Surf Star, this engine turns lower RPMs at surfing speeds, increasing the overall fuel efficiency when surfing and participating in other watersports.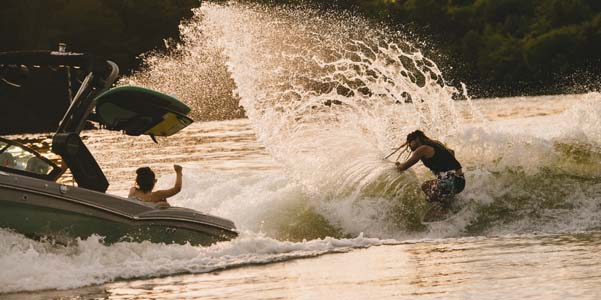 Those looking for an extra boost can option their XStar S with the 7.4-liter Ilmor for 522 horsepower.
All motors for the X-series, XStar, and XStar S come standard with quiet exhaust to enhance the rider experience for both onboard passengers and surfers.
When you demand greatness, the XStar S meets your needs! Infinite waves, plush seating, sporty handling, and endless customization provide everything you need to reign supreme. Visit your local Skier's Marine dealership to test drive and test surf your own MasterCraft XStar S!