When buying your first boat, it can be really overwhelming trying to figure out what type of boat is right for your family. Here at Skier's Marine, we want to be an education source help guide you to the perfect boat. Most boats fit into four usage categories: wake and ski, cruising boats, fishing, and thrill-seeking. Here, we'll briefly cover which types of boats are best for cruising and pleasure boating along with the benefits of each boat type. If you're interested in wake and ski, fishing or thrill-seeking boats, you check out our breakdowns here!
Let's get started! There are two main types of pleasure boats: inboard/outboards (I/Os), also known as sterndrives, and pontoons.
Want to watch this post as a video instead? Check it out here:
INBOARD/OUTBOARD CRUISING BOATS
First let's talk about stern drives, which are a great general purpose boat. Perfect for cruising around the lake, I/Os are the ideal choice for people who want to day boat. Additionally, they're easily maneuverable which means they are a great entry level boat.
Let's look at some other benefits of an inboard/outboard:
I/Os are known for their smooth ride characteristics and higher cruising speeds. This setup can be beneficial for clients on larger bodies of water or intercoastal areas who drive long distances and want to do so at higher speeds while maintaining good MPGs.
While not as effective at watersports as inboards, I/Os can also take a wake or surfboard behind for those interested in wakeboarding or wakesurfing occasionally. This is a perfect boat for young couples who mainly cruise unless their kids are with them (a couple of times a summer) or have young kids not heavily involved in watersports yet.
I/Os have ample storage and comfortable interior layouts. Because of their practical advantages and attractive cost, these boats have become extremely popular especially for use in pleasure boats.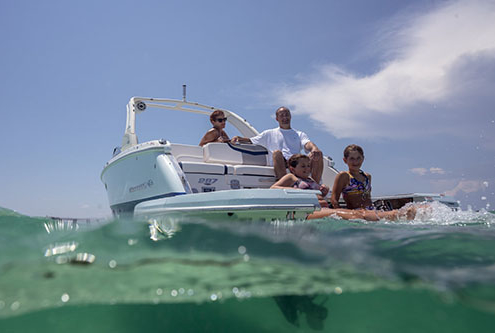 I/Os are great boats for those looking for a smooth ride, fast cruise speeds at lower MPG's, and who want to spend the day cruising with family and friends.
PONTOON BOATS
The next category of cruising boats on our list is Pontoon boats. Finding the perfect pontoon can be overwhelming with manufacturers offering a variety of models and a plethora of features. But typically, there are four main floor plans: entertainment, bar, fishing, and lounge plans. Additionally, you can get either a pontoon with 2 tubes or a tritoon with 3 tubes. 
Pontoons have many design elements that make them great for families and entertaining:
Pontoons are more affordable and generally have smaller horsepower motors, ideal for places with restrictions. The third tube on tritoons adds stability and buoyancy, handles rough water better, and allows more horsepower.
You can usually find pontoons partnered with an outboard company. Outboards have a lot of positives, including the fact that they do not always require winterization (as long as it self drains). This means that if you have the occassional sunny day in the winter, you can take your pontoon out for a cruise!
Pontoon boats feature a large, flat upper deck which is incredibly customizable. This makes them great for watersports, luxury excursions, fishing, and everything in between.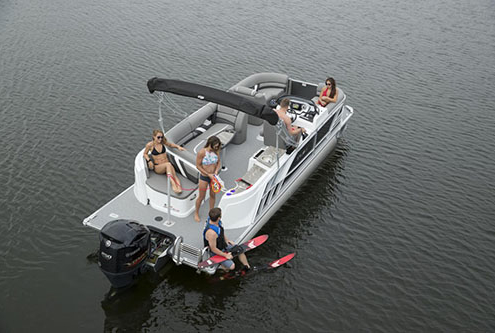 If you're looking for a relaxing day on the water, the pontoon is an ideal pleasure boat. They are sturdy and comfortable without costing a fortune. Easily customizable features make it perfect for your family's favorite activities, whether it's fishing, swimming or just unwinding.
To learn more information about Inboards/Outboards or Pontoons, visit your local Skier's Marine.