When buying your first boat, it can be overwhelming to figure out what type of boat is right for you. Here at Skier's Marine, we want to be your education source and guide you to the perfect one for your family. Overall, most boats fit into four usage categories: wake and ski, cruising/pleasure boating, fishing, and thrill-seeking. Here, we'll briefly cover which types of boats are the best wake and ski boats and the benefits of each. If you're interested in fishing, cruising, or thrill-seeking boats, we will cover those in separate posts you can find here!
Let's get started! When talking about the wake and ski boats, there are two main types of boats that are designated by their engine locations: inboard and inboard/outboards.
Want to watch this post as a video instead? Check it out here:
INBOARD WAKE BOAT
First, let's talk about Inboards. Inboards make a lot of sense for people who spend a significant portion of time behind the boat enjoying watersports. Inboards make wakesurfing, wakeboarding, kneeboarding, waterskiing, and tubing very easy, thanks to their design and integrated technologies. Another benefit of inboards is the open seating layout. The open lounge seating makes it easy for people to enjoy the water in a social atmosphere.
An inboard wake boat or ski boat has many design elements that make them great for families who enjoy watersports:
Inboards are a safer option as the prop is underneath the boat while the motor is inside it. With the prop stowed beneath the platform, you are less likely to hit it when swimming off the back of the boat. Inboards are also very safe for wakesurfing since your rider rides so close to the back of the boat.
Aside from saltwater fishing boats, these boats tend to have the most technology of any other boat segment. The advanced technology allows you to manage many watersports functions through saved profiles and personalized preferences. The boat does the heavy lifting for you with cruise control, ballast, plate monitoring systems, and sometimes inclinometers to measure pitch and roll.
The inboard engine design makes boat operation underway remarkably easy. Since the prop location is under the boat, bow rise is minimal on takeoff. Just apply throttle and steer; it's that easy.
The spacious interior layout allows for all-day comfort and fits a larger group than similarly sized fiberglass sterndrive and fishing boats.
Newer designs are heavier and deeper than older generations. The deeper the boat, the smoother (and in some cases softer) the ride. Plus, newer inboards have more storage for all-day boating.
All newer inboards designed for wake sports will have upgraded tower board storage and integrated biminis to offer shade on hot days.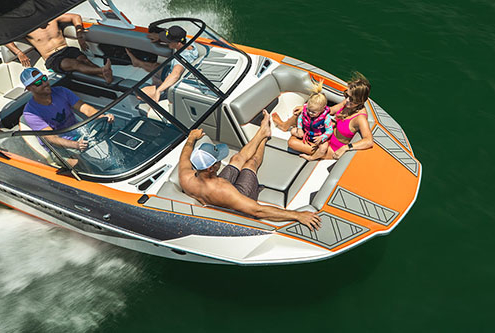 Inboard boats are incredibly versatile, perfect for those who want to enjoy watersports and cruising the lake. They come in various size options between 20 to 26 feet, allowing you to find the perfect size for your waterway.
INBOARD/OUTBOARD SKI BOAT
For clients looking to get involved in wakeboarding and wakesurfing but spend the majority (70%+) of their time cruising, a Sterndrive with a forward drive and cruise control may be a great solution. Sterndrives, also known as inboard/outboards, help bridge the gap between the traditional sterndrive cruiser and the inboard.
Let's look at the benefits of a sterndrive with a forward drive and surf system:
Sterndrives offer smooth ride characteristics and higher cruising speeds. This setup can be beneficial for clients on larger bodies of water or intercoastal areas. A sterndrive is for you if you cruise long distances at higher speeds and desire higher MPGs.
While not as effective at watersports as inboards, a sterndrive can offer some wakeboarding or wakesurfing abilities. All types of watersports are available when equipped with a forward drive, cruise control, and surf system. Sterndrives work great for couples or young families who mainly cruise but are not heavily involved in watersports.
Sterndrives are great for day boating offering ample storage and different interior layouts. Many have bathroom facilities to make spending a full day on the water more enjoyable.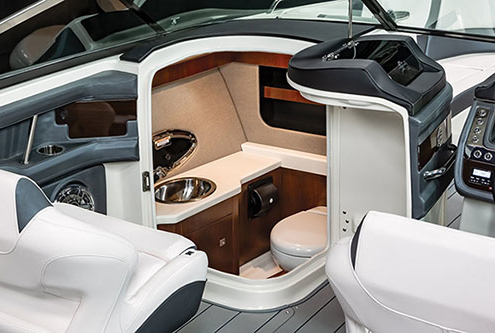 Sterndrives are great boats for clients looking for a smooth ride, fast cruise speeds at lower MPGs, and who occasionally want to spend some time wakeboarding, wakesurfing, and waterskiing. If you like sterndrives AND watersports, opting for the forward drive is a good option.
To learn more information about Inboards (Wake Boats) or Sterndrives (Ski Boat) with the capability to deliver wakeboarding, wakesurfing, kneeboarding, or waterskiing performance, visit your local Skier's Marine.