You're heading out for a day of boating in Chattanooga but aren't sure what to do first! Don't worry – Skier's Marine has you covered.
Chattanooga, conveniently located on the Tennessee River, has numerous restaurants, marinas, parks, and popular tie-up/raft-up spots. You can also find on-water events such as concerts and watersports competitions throughout the year!
With so many options for fun, we created a guide to boating in Chattanooga to help maximize your time on the water.
Tennessee River Gorge
The Tennessee River Gorge is a 27-mile long stretch of the Tennessee River. It begins in west Chattanooga near the Suck Creek Boat Launch, wraps around Elder Mountain, and snakes over to Hales Bar Dam Marina.
The Tennessee River Gorge Trust (trgt.org) protects over 17,000 acres along the Tennessee River. Several endangered species and archaeological sites call the Gorge home. If you're lucky, you might spot an Osprey or Bald Eagle during your day on the water! The Gorge is a serene boating and fishing location in Chattanooga and a prime location for hiking, biking, and climbing.
Suppose you're looking for a great weekend spot full of scenic views, cabins to rent, and premier kayaking opportunities. In that case, the Tennessee River Gorge is your spot!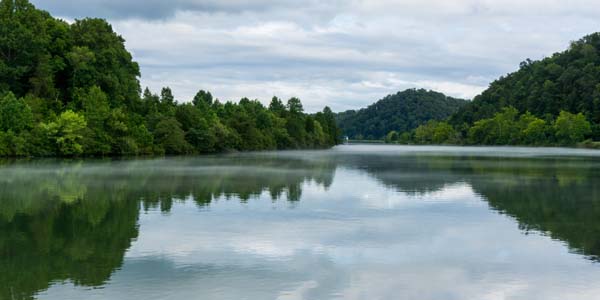 WHERE TO LAUNCH:
Suck Creek Boat Launch, Raccoon Mountain Boat Ramp, Sullivan's Landing, Hales Bar Boat Ramp
LOCAL MARINA:
Hales Bar Marina and Resort
Harrison Bay, Paradise Cove & Chester Frost
Heading upstream, you will find Harrison Bay and Paradise Cove, both on the east side of the river.
Established in 1937, Harrison Bay was the first Tennessee State Park. It is still a popular location for both day-boaters and RV vacationers! The park includes 1200 acres of hiking trails, campgrounds, rentable facilities, a golf course, and a marina.
Harrison Bay allows all types of boats and offers 24-hour access to the boat ramp at no charge. The marina is stocked with gas, snacks, ice and provides access to restrooms, pump-out service, and rowboat/fishing boat rentals. You can also find the Dockside Cafe tucked in next to the Harrison Bay Marina.
Paradise Cove may not look like much on a map, but it's the hot party spot for holiday weekend tie-ups!
The "Party Cove" is nestled inside Harrison Bay State Park and provides a private hangout spot away from choppy waters. During the week, Paradise Cove makes a quiet spot for fishing and kayaking, but the weekend guarantees an all-day social hour.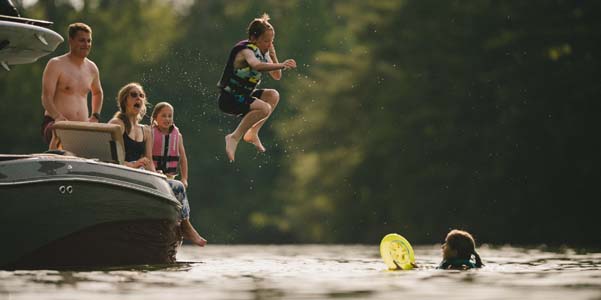 Directly across the river from Paradise Cove, you will find Chester Frost Park and Campground. Chester Frost Park is an excellent location for family days on the water. Tucked away from the main channel, you can find the Chester Frost bay area off of the park's shoreline. You may find less boat traffic here for your day of water activities!
A public boat ramp is convenient to the boat docks, beach, and picnic areas, making Chester Frost a prime home location for day boaters. A bonus at this park is the numerous activities for families and kids of all ages. Check the park's website for upcoming movies in the park, kayaking, craft nights, and more!
Harrison Bay and Chester Frost Park both offer a quiet shoreline with ample outdoor conveniences. What Paradise Cove lacks in amenities, it makes up for in social hangouts and on-water entertainment! All three locations are close enough to downtown Chattanooga for easy access to the city but far enough to escape from the crowded waterways.
WHERE TO EAT:
Amigos Mexican Restaurant, Dockside Cafe, Steve's Landing, Lakeshore Grille
WHERE TO LAUNCH:
Wolftever Creek Boat Ramp, Chester Frost Park
LOCAL MARINA:
Island Cove Marina
Watts Bar
Watts Bar Lake is about halfway between Chattanooga and Knoxville and stretches from the Watts Bar Dam to the Ft. Loudon Dam. Several state parks and recreation areas are within an hour's drive to Watts Bar Lake. Rhea Springs, Hornsby Hollow, and Fooshee Pass are a few lakeside campsites with a boat launch on Watts Bar.
You will see various boats on Watts Bar Lake, from houseboats to jon boats, so make yourself at home! Some marinas in the area offer boat slips and cabin rentals for your weekend getaway too.
WHERE TO EAT:
Nick's Lakeside Grill, Crows Nest, Terrace View Restaurant
WHERE TO LAUNCH:
Watts Bar Dam Boat Ramp, Euchee Boat Ramp, Rhea Springs Boat Ramp, Foshee Pass Boat Launch
LOCAL MARINAS:
Lakeshore Marina, Terrace View Marina
Honorable Mention: Parksville Lake
Parksville Lake is not on the Tennessee River but is just an hour's drive east of Chattanooga. This smaller lake is the oldest in the Cherokee National Forest and is sometimes referred to as Lake Ocoee since it feeds the Ocoee River. If you need a scenic forest background for your boating photoshoot, head over to Parksville Lake!
The lake has a few public boat launch locations and excellent recreational areas like Parksville Beach, Sugarloaf Park, and Mac Point.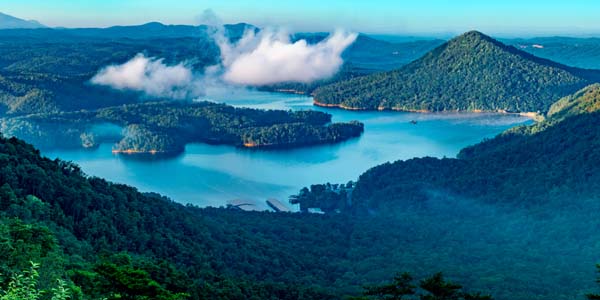 WHERE TO LAUNCH:
King's Slough Boat Ramp, Parksville Boat Launch, East Parksville Boat Launch
LOCAL MARINA:
Lake Ocoee Inn & Marina
Boating in Downtown Chattanooga
You may not see many boathouses along the river near the Chattanooga Riverwalk, but that doesn't stop boaters from experiencing the downtown scene by water! In this portion of the Tennessee River, you are more likely to see boaters passing through or docking for the day to enjoy the Riverfront.
Boating along the Chattanooga Riverfront provides a beautiful cityscape backdrop with unique bridge overpasses along the route. A few public fishing piers are also conveniently located to both downtown and at the boat docks.
WHERE TO EAT:
Scotties on the River
WHERE TO LAUNCH:
Ross's Landing Boat Ramp
LOCAL MARINA:
Erwin Marine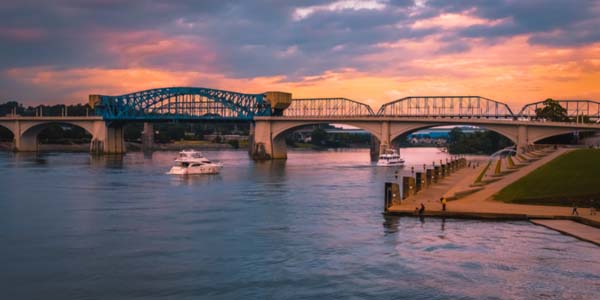 Fishing in Chattanooga:
Now that we've pinpointed the best day boating spots, we need to talk about fishing in Chattanooga!
Anywhere on Chickamauga lake is hands down the top fishing lake along the Tennessee River, and there's a reason people call it the Lake of Giants! Chickamauga Lake is nationally recognized for its population of massive largemouth bass and is host to several top competitive fishing tournaments.
In addition to the boat ramps already mentioned, a few more options are available and perfect for fishing boats, kayaks, and canoes. If you're in Dayton, check out Blythes Ferry Boat Ramp. Closer to Harrison Bay, you'll find the Savannah Bay Ramp. Then right in the middle sits Skull Island Recreation Ramp and the Lee Pike Boat Ramp. Be sure to check their websites, social media, or the TVA for information on lake levels, closed boat ramps, and other lake information.
FishLakeChick.com is also an excellent source for planning your next fishing trip to Lake Chickamauga.
Safety Tips for Boating in Chattanooga
Boater safety is an essential item on your checklist before heading out on any body of water.
If you operate a boat with more than 8.5 horsepower in Tennessee, a boating education certificate is required for residents born after January 1, 1989. The Tennessee Wildlife Resources Agency lists testing locations and online study courses for boating.
If you are an out-of-state resident boating in Tennessee, the TWRA accepts any NASBLA approved boating safety certificate.
When boating along the Tennessee River, your most significant safety concern is other boaters. Stay vigilant and drive defensively as if the other boaters do not see you. Allow ample space for passing and stay at least 100 feet away from the shore to allow your wake time to dissipate before it hits boat docks or anchored boats.
The Tennessee River depth varies but can accommodate boats of all sizes, from small kayaks to commercial barges. Whether you are a local or from out of town, having a depth finder on your boat will help you keep track of the underwater terrain and avoid sandbars.
As a general rule, if you are recreational boating, it is best to boat away from any dams along the Tennessee River. Increased currents and boat traffic are typical in these areas, so providing yourself space will keep you and your passengers safe.
Boats for Sale in Chattanooga
Looking for your next boat? Skier's Marine Chattanooga is your one stop shop for boating the Tennessee River!
The Skier's Marine Chattanooga team is your trusted source for buying a new boat, servicing your current boat, and updating your watersports gear. Let us share our passion for boating so you can create a legacy of time on the water with friends and family.
The team at Skier's Marine wants you and your family to enjoy your day on the water! If you have questions about your boat, watersports gear, or anything related to life on the lake, stop by our Chattanooga location or give us a call.